Thunder Up: Isn't Sharing Fun?
by @meganmtrout 
Coach Billy Donovan's new offensive approach of increasing ball movement is finally coming together for the OKC Thunder. The team had a bit of a coming out party this week, going 4-2 with two dominant performances against the Grizzlies and the Hawks. The Grizzlies have been nipping at the Thunder's heels in the Western conference, so OKC's win on Tuesday came with a little extra sparkle.
On Thursday, Kevin Durant got his first triple-double of the year with 25 points, 12 rebounds, and 10 assists. Durant only took one shot in the entire first quarter–talk about sharing is caring.
"I can shoot whenever I want," Durant said. "I worked hard to get that privilege. But I just try to play the game as simple as possible. It's fun seeing the game slow down for you, things start to get really fun."   —Royce Young, ESPN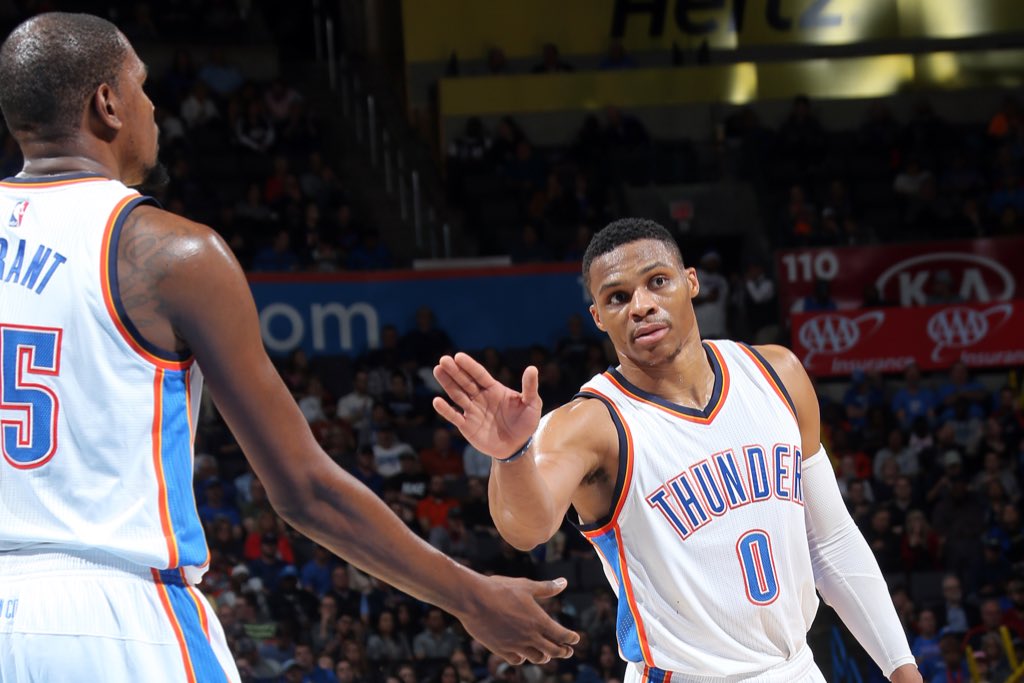 Russell Westbrook also had quite the night of setting up easy baskets for all of his buddies as he matched Durant's 10 assists. Last night was the first time KD and Westbrook finished with at least 20 points and 10 assists in a game together. It was easy to see how much of a difference this democratic basketball approach affected the team. Everyone was all smiles, Serge Ibaka was draining jumpers from just about every distance possible, Steven Adams was a rebounding machine, and the team, as a whole, was completely relaxed. Even when the Hawks seemed like they could close their eyes, shoot from half court and make every basket, the Thunder remained unruffled.

The Thunder are still in third behind the unbeatable Warriors and dominant Spurs. Hopefully, the trust in this new offense is growing and the wins will continue to flow in. This week the Thunder will match up against the Jazz twice (haven't we seen enough of them?), the Trailblazers and the Cavaliers.
Questions? Comments? Leave one below or stalk Megan on @sprotstakes @meganmtrout
Like what you read and want some more? Check out other posts from Megan here!